THE JUNGLE BOOK – AUDITIONS
TO BE PERFORMED AT THE MADDERMARKET THEATRE, NORWICH
27TH – 30TH OCTOBER 2021

Echo Youth Theatre is back!  With a new rehearsal space and a new performance space, we are excited to bring this exciting adaptation of Rudyard Kipling's 'The Jungle Book' to the Maddermarket Theatre in October.
If you have only seen Disney's version of The Jungle Book, this show is not that!  The story is the same, but the script is true to the original book in language and style.  There are passages in the script that are written in Kipling's original rhymes and these can be spoken, sung, rapped or chanted – we will be developing these ideas with the cast during the rehearsal process and, if you want to bring ideas to audition, we would be delighted!
Here are some images of past productions by other companies plus a few design inspiration pictures, to give you a feel for what we will produce: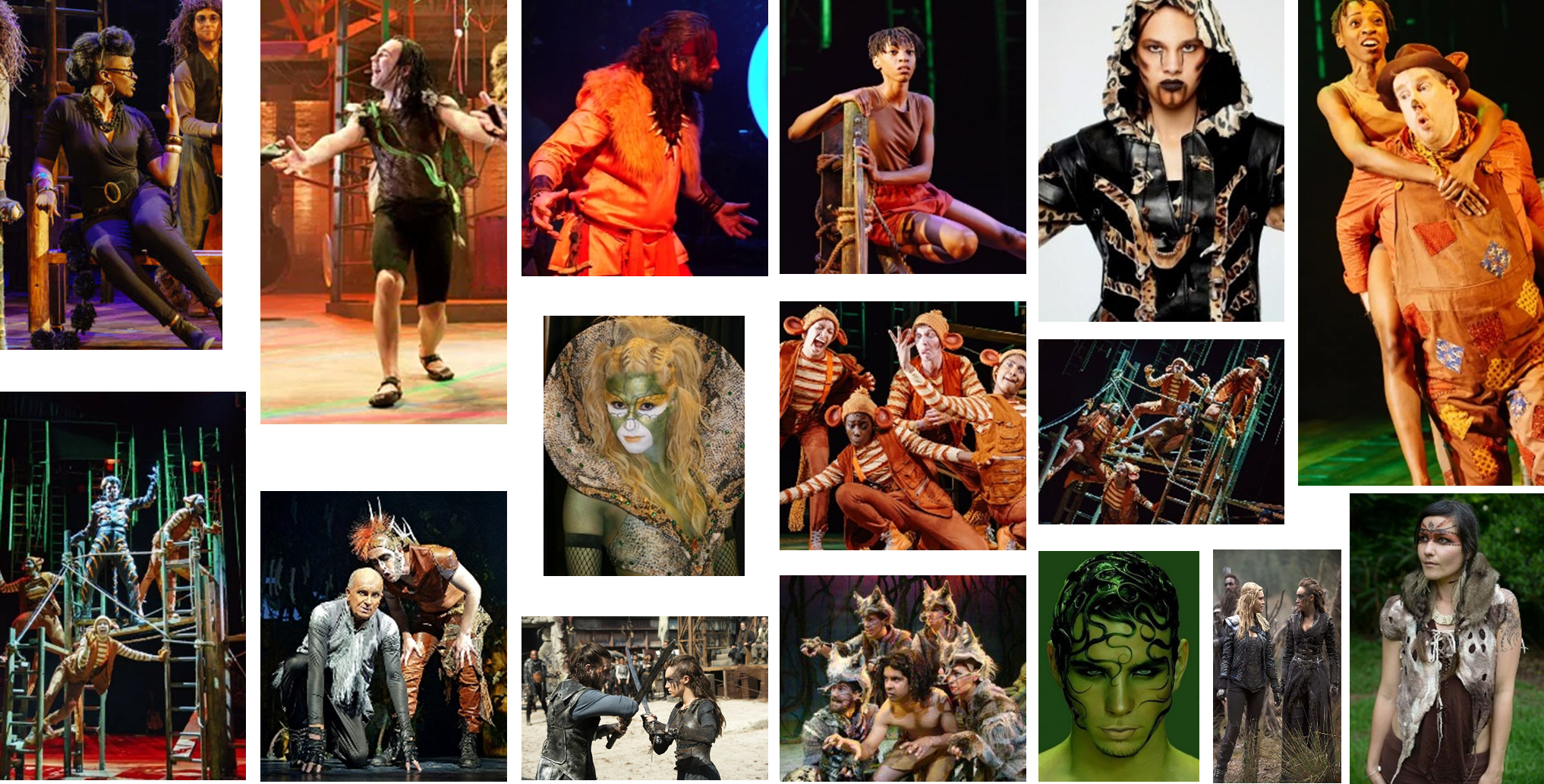 Our new rehearsal venue will be confirmed soon!
There will be some cast workshops in August and a read-through of the script on Saturday 4th September.  Rehearsals start fully on Tuesday 14th September and will be:
Tuesdays 6.30pm to 9pm
Thursdays 6.30pm to 9pm
Saturday from 11am to 5pm.
The rehearsal schedule will call cast for specific scenes – you will not be required at every rehearsal – you only need to attend when called.
Please look at the full rehearsal schedule to see the requirements – the schedule is subject to change but it will give you an idea of the commitment required for each role.
The rehearsal period is only 6 weeks, so it will be essential that you do attend when called.  Where possible, we will release younger children at 8/8.30pm on weekdays – the schedule will be finalised once casting is completed.
We will also be running some workshops during August – these are not mandatory as we understand you may already have commitments – but we will be developing the large group scenes during these sessions and will be experimenting with different ways of delivering the verses, so we would like all cast to attend if available.
Principal cast members will be expected to learn their lines over the summer break and start rehearsals on 14th Sep "off-book".  The show is physical with lots of movement and it will be difficult to set the scenes in rehearsal if cast are having to read off scripts.
AUDITIONS WILL BE HELD AT THE MADDERMARKET THEATRE, NORWICH, NR2 1DR
Prior to our auditions, we will be holding an information evening for parents, members and potential members – you do not need to attend this, but if you are undecided, or want to know more about the audition process, meet the team or see the audition venue before you audition, then we recommend you come along.   There is no obligation and no need to have already booked an audition, just come along and see and hear what we are about.  We will talk about the show, rehearsals and the audition process.
Information Evening – Thursday 1st July  7pm – 8.30pm – this will be a socially distanced presentation in the theatre.  Numbers will be limited, so please register your interest so we know how many to expect.
Group Auditions – Saturday 3rd July 10am – 12pm (all auditionees) – this will be a series of workshops.
Individual auditions – Saturday 3rd July 1.30pm – 5.30pm (for those auditioning for principal roles only)
Recall Auditions – Sunday 4th July 11am – 1pm  (if required, you will be informed after your individual audition)
Links to the audition pieces and character notes are below.  If you want to be considered for the ensemble roles, you only need to attend the group auditions.  If you want to audition for one of the 10 principal roles, you will need to attend both the group auditions and an individual audition.
If you are booking an individual audition, please choose one character and prepare the audition scripts provided.  You can have the script with you in the audition, but please prepare your audition so you are able to perform without reading.  Whilst you may only audition for one character, you will be considered for other roles and the panel will ask you at audition which other roles you would like to be considered for.
Our casting for this show will be age and gender free, which means that we have no pre-conceived ideas about what age or what gender an actor must be to play a role.  We would like some characters to have greater stature and presence than others and some characters to have equal stature, but these selections will not be based on age or gender, just how the actors perform together.
The minimum age for cast members is over the age of 8 at the start of rehearsals on 14th Sep.  The upper age is 19 but cast members must also still be in full-time secondary education (ie on a school sixth form or college pupil roll) at the time of the show.
The costs for cast are:
EYT Annual Membership fee of £15 will need to be paid once casting is confirmed, if you are not already a member.
The show fee for cast members will be £30 and this will be required by the end of September. If this will cause any difficulties, please speak to us and we can discuss payments in instalments.
Scripts will be provided as part of the show fee.
All costumes are provided and cast are not expected to provide or purchase costumes, other than under-garments and possibly footwear.
Prior to auditioning, you will be asked to let us know of any planned absences – auditionees with excessive absences or if unavailable for key dates (such as run-throughs) are unlikely to be cast.  If you have any questions, please ask.  We are happy to accommodate a reasonable level of absence, if we are informed in advance.
Please arrive fifteen minutes before your audition time and wait in the bar area of the Theatre, where you will be met by one of our ushers.