Performed at The Assembly Rooms Norwich in October 2019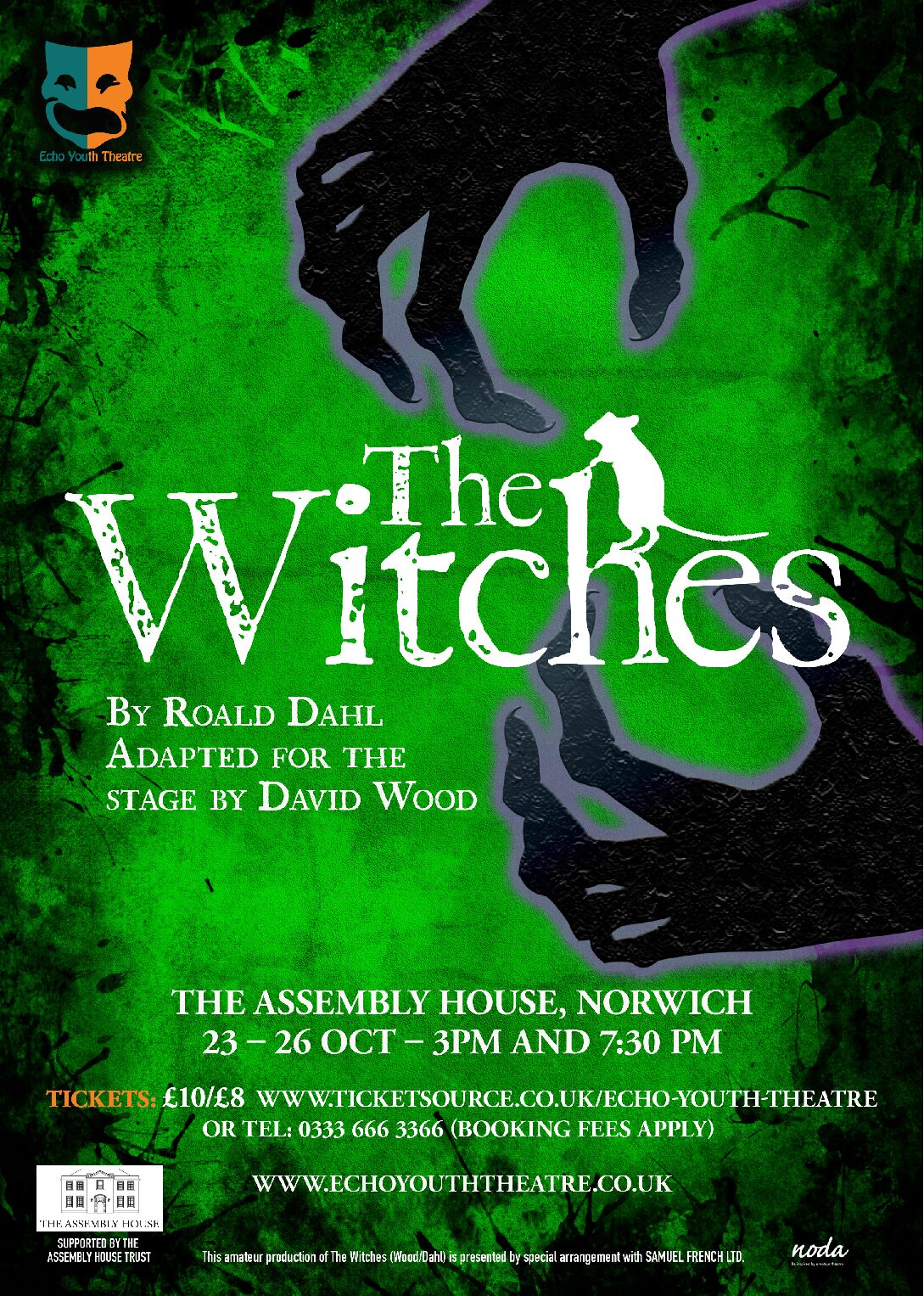 The Witches tells the story of a young boy and his Norwegian grandmother as they battle against England's child-hating witches. This is not a fairy-tale – it is about real witches and the play is a faithful adaptation of Roald Dahl's classic story in which Boy and his Grandmother defeat the Grand High Witch and her followers. During the struggle, Boy and his friend Bruno get turned into mice but they still have to save all the children of England befalling the same fate.
The Witches presented huge challenges – magic, bald witches, mice (lots of mice) and Grand High Witch with two faces! EYT are lucky to work with really talented creative teams and what resulted was an immersive, physical theatre and puppetry performance on a thrust stage in the Assembly House Ballroom. Directed as an ensemble piece, most of the 16 cast members multi-roled and created scenes with minimal set through movement and puppetry. Bald cap and wigs were a big feature and the pre-show prep time and took as long as the actual play, but it was worth it – we created a really special version of this challenging play and we couldn't be prouder of the result.
Stage Adaptation by David Wood from the book by ROALD DAHL  An amateur production by arrangement with Samuel Frech Ltd

W
hat an enchanting story line … I was riveted with this performance. The Directors really brought great imagination to this production with the acting and interpretation, the physical theatre skills, and the puppetry, bringing the story to life with energy and great interactions … loved this very clever set … so brilliantly moved, rebuilt, and reassembled with military precision (style and acrobatics) by this cast of youngsters … what a time these witches had in their moments of fury and action and general hatred of children, and all that very clever movement to create the moods. I was enchanted by this piece of theatre.
National Operatic and Dramatic Association

This is a very physical, clever performance from a young cast who give their all to Dahl's (actually quite scary!) story. … There's puppetry, illusion, gymnastics, dance and some truly incredible costumes and prosthetics with a set which is pared back but incredibly clever, turning two simple sets of stairs into a range of different scenes. Fast-paced, funny, scary and with some moments of real drama, this is a really polished performance from a very talented group of actors.
Eastern Daily Press
Read Full Review

The costumes, wigs and stage effects are all designed and executed at the high standard that Echo are gaining a well deserved reputation for. The production balances music, dance and action well in a show which will hold the attention of the liveliest of children throughout.
This is a highly entertaining show from start to finish with a competent cast who all look as though they are thoroughly enjoying every moment of the show. Like other Dahl works the story contains some very dramatic themes and events, but the overall effect is warming and life-affirming and sees life from the positive outlook of children
Norwich Eye
Read Full Review

I would like to say thank you to the amazing crew that worked on this show. If it wasn't for all of you we wouldn't of had the amazing props and costumes, the tons of marketing on social media and not to forget the outstanding directing. Thank you also for allowing me to be in another brilliant show by Echo.
Cast Member

Wow! I have loved every second that I have been part of Echo Youth Theatre. They are like a second family, the talent is out of this world and the costumes and set is so professional. By far the best youth theatre company I've been part of. Everybody is so supportive and they've helped me shine and realise the talent that I have. The Witches was an absolutely outstanding show.
Cast Member