Performed at The Maddermarket Theatre, 27-30 Oct 21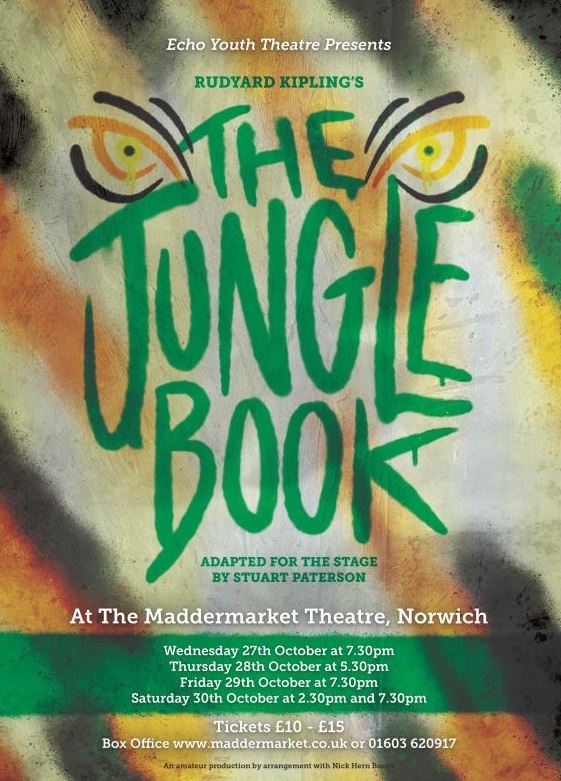 Stuart Paterson's reimagining of The Jungle Book is a vibrant adventure, full of surprises.  This production was not what you might have expected if you were only familiar with the Disney version of the tale – this version of the story was true to the original book and Kipling's words and verses.  We were delighted to bring this fast-paced, exciting production the the Maddermarket Theatre as part of their autumn 2021 re-opening season.
Directed by Chris Davidson as an ensemble piece, the small, dedicated cast embraced the vision and brought their animal characters to life through action, verse, song and words.  The cast had to cope with the added pressure of switching roles to cover cast members isolating through Covid and worked hard to ensure the show got on stage.
Set in a dystopian version of the jungle, reminiscent of an urban jungle, the sounds of the jungle were transformed into a lively, upbeat percussive sound-world with an original score composed by Acer Smith, specifically for us.
With the support of City College Norwich Theatrical Make-Up students, the costumes hair and make-up made created real visual impact and brought the characters to life on stage.
We are extremely proud of the huge team that made the show possible and so special during difficult times.

The entire cast had the audience in the palm of their hand in this dystopian retelling of a classic story.  Expertly directed by Chris Davidson, the young people extracted the human story from the animal characters. This production was unexpected, visually stunning and brilliantly performed.  Thomas Hare, 13, led the cast with conviction … he delivered the story confidently with a convincing depth of emotion.  All in all, this was a wonderfully wild night performed to a professional standard by the entire cast.  
Norwich Evening News
Read the full review

We have just come back from opening night, and wanted to say what a fantastic show despite challenging circumstances! The understudies were brilliant, as was the rest of the cast (especially Akela and Ka and Baloo). Well done all of you.
Audience Member

The accomplished young cast bring a diverse range of skills and talents to the stage. Thomas Hare is perfectly cast as young Mowgli  … The lead characters all give convincing performances drawing our empathy for their various stories and roles in bringing up Mowgli. For some of the cast this is their first show with Echo Youth Theatre, but they all have confidence and stage presence. Echo have marked the end of lockdown with a lively, well timed and thoroughly enjoyable version of this classic yarn.
Norwich Eye Magazine