A Little Princess – The Musical
Performed at Open, Norwich in April 2018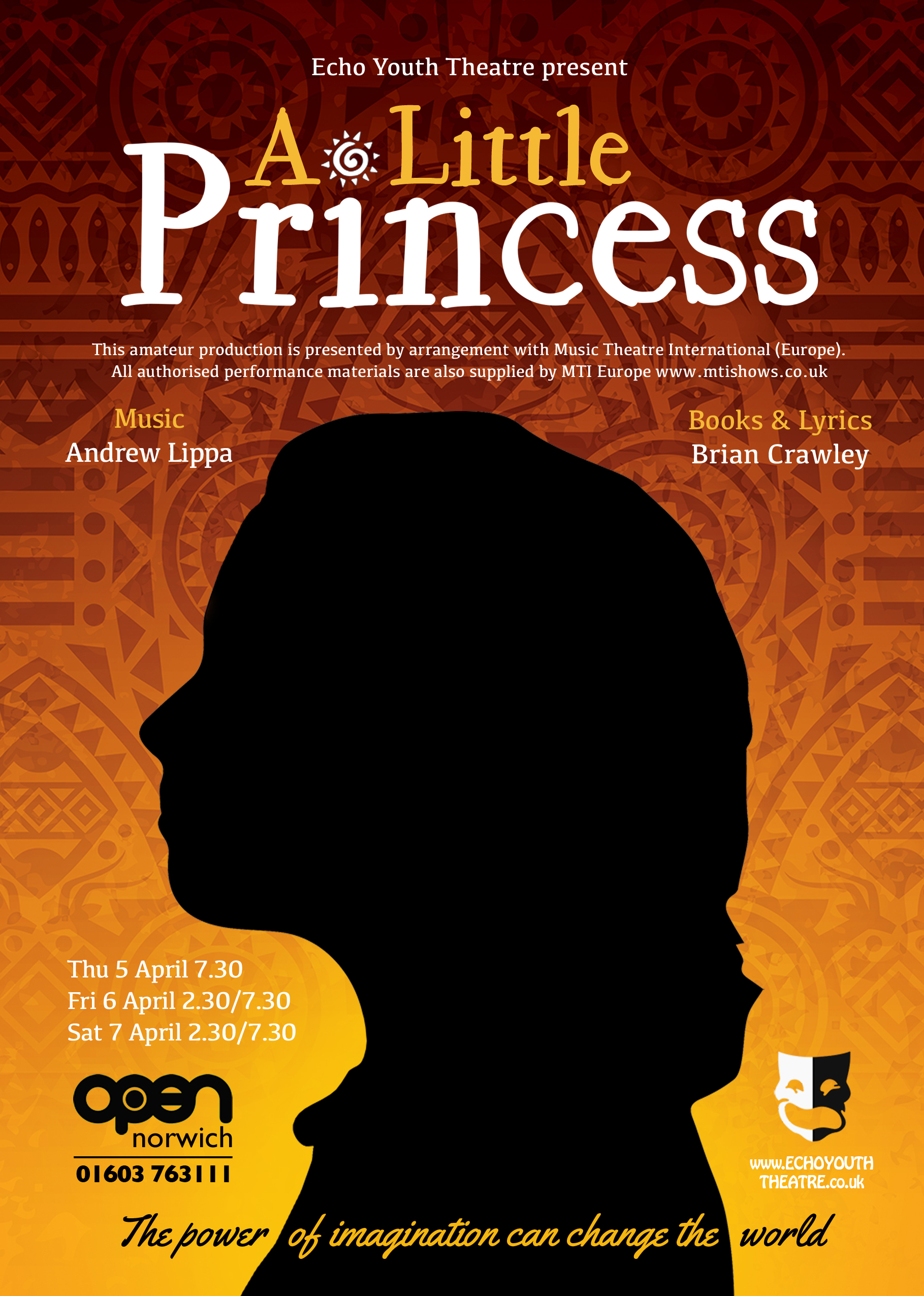 Based on the book by Frances Hodgson Burnett, A Little Princess is the story of the power of a young girl's imagination to change the world around her.
Written by Tony-nominated composer/lyricist, Andrew Lippa and Brian Crawley, A Little Princess was an East Anglian premiere by Echo Youth Theatre. The story is set in Victorian England and Africa and includes lively African music and dance within its exhilarating score.
Separated from her father in Africa, young Sara Crewe is sent to boarding school in London. When things go badly for her, her imagination and story-telling help to transform a drab institution into a place of magic and mystery. As Sara wins the affection of the other boarders, she crosses Miss Minchin, the dour headmistress, who forces Sara to work as a maid, when her father is reported dead. Sara counters all of Miss Minchin's best efforts to degrade her, while maintaining the grace and virtue of a little princess.
A Little Princess was staged by Echo Youth Theatre in April 2018 with cast of 22 young people, ranging from 9 to 17 years old. Although audiences were small for this little known musical, they were appreciative. The set, staging and lighting made for an excellent show, with this small but talented cast, and EYT are proud for this to have been our very first production.

Absolutely amazing, my Daughter has loved every moment from the auditions to the rehearsals to getting on stage. The staff & team have been astounding & the atmosphere has been up lifting, truly a moment in her life I think she will never for get. Massive credit to EYT for bringing everything together & putting on such an awesome production. Couldn't be prouder as a parent & I think at one point I had a few tears. Thanks for this great opportunity & thanks to all the staff who give up their free time to make things like this happen. It's amazing keep up the good work, massively recommended.
Parent & Audience Member

The production team of Dan, Artemis and Lisa really encouraged and extracted a huge talent from these youngsters and gave them confidence to project their characters in acting, singing and dance to the full, a real impact from the stage really deserving the applause. Those workshops which are at the core of the group are really worthwhile.
National Operatic and Dramatic Association


The cast bring us a diverse range of characters from African rulers to Queen Victoria and some very believable London schoolgirls, all bound together by some great songs and music. Norwich is a city rich in culture and performing arts and this new offering is one of the most enjoyable shows you will find in the city – don't miss it!
Norwich Eye Magazine
Read Full Review

Such a pleasure to see A Little Princess yesterday. I was so impressed with the enthusiasm and talent on stage as well as the sheer professionalism of school age children, some of whom have never been on stage before. I am also delighted that Echo Youth Theatre have created such amazing opportunities for these youngsters. Just what Norwich needs to continue feeding talent to this culture hungry city. Take your children to see it. Let them be inspired!
Audience Member