at St Edmunds Fishergate NR3 1SE
Workshop Fee: £5 for Members*
(£12 for non-members) 
* if you have paid the annual membership fee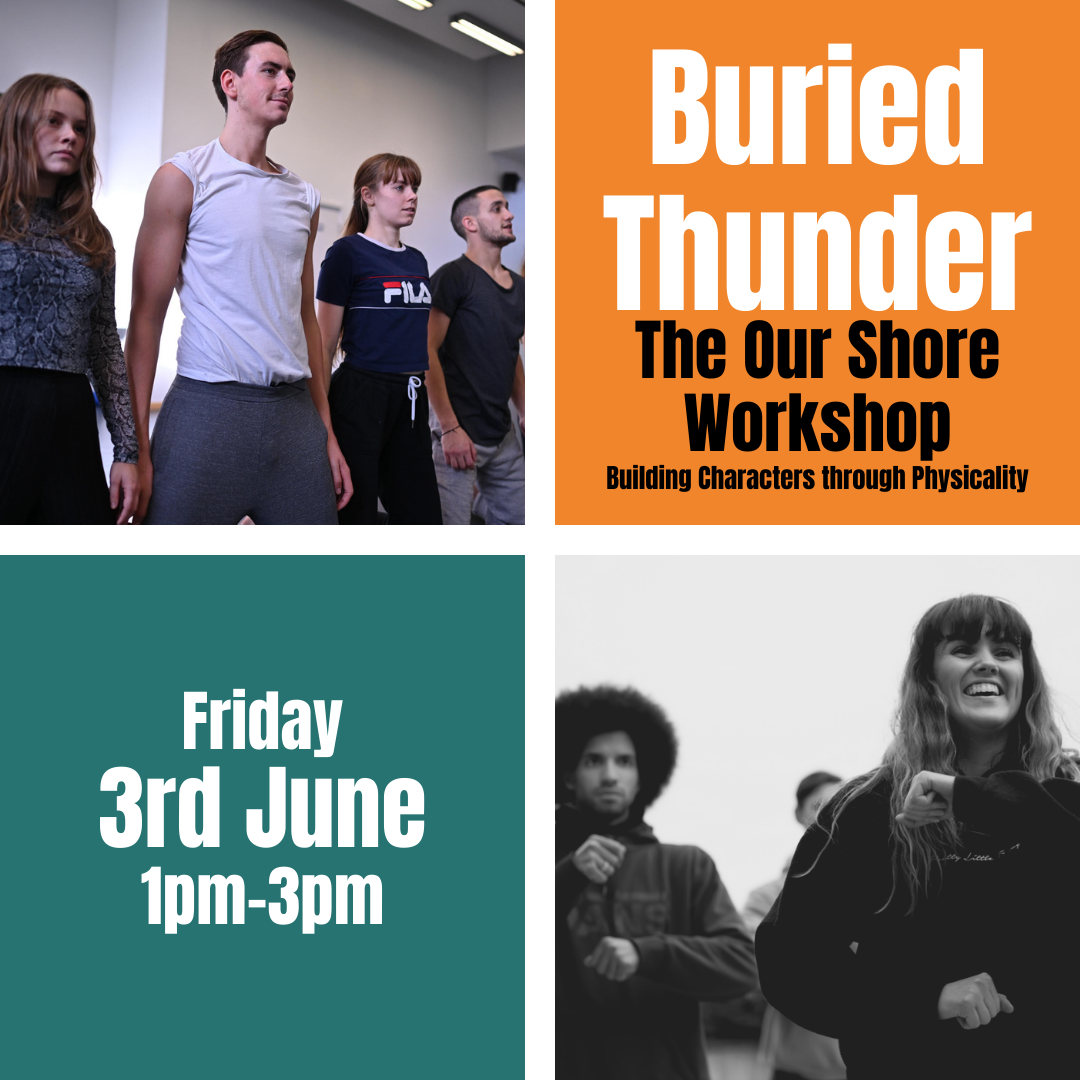 OUR SHORE BRIEF SYNOPSIS
A stranger from the East finds himself washed up on an unfamiliar shore. Rocky cliffs sprouting green vegetation, violent waves crashing onto the sandy beach underfoot, a lighthouse glowing in the distance…
He has arrived somewhere in the British Isles, soon to uncover the lost tales of the land.
Breathing new life into Britain's ancient folklore, Physical Theatre company Buried Thunder present Our Shore.
ABOUT THE WORKSHOP
The Our Shore workshop is inspired by our devised show about British mythology. Participants will watch a ten minute performance by two Buried Thunder practitioners before exploring our creative process themselves. We will give them the tools to create larger-than-life characters in their own work, discussing how this technique can be applied in devising physical theatre and naturalistic performance.
The workshop will begin with a high-energy Buried Thunder warm-up, followed by a physical exploration of the Laban Efforts as a starting point for building characters. Participants will then get to watch a multi-rolled, highly physical ten minute version of the original show performed by our two workshop leaders. They will then work as an ensemble to recreate their own version of scenes. Finally we will allow time to discuss using the Laban Efforts to inform character decisions and provide an insight into how we created Our Shore with our chosen stimuli. 
ABOUT BURIED THUNDER
We are Buried Thunder, a physical theatre company passionate about new work. We devise original, fantastical work that fuses elements of dance, physical theatre and text. Making work for primarily young adults, we reinvigorate and reimagine archaic tales at risk of being lost or forgotten.
Since forming in 2019 the company has made it its prerogative to develop outreach workshops for every performance it produces. We deliver sessions to schools, youth theatres and higher education organisations that give participants insight into how a professional company makes work, as well as championing confidence, team-work and communication.
Through our work we aim to move through movement, ignite imagination and unearth buried stories.