A Midsummer's Night Dream
Performed at Open, Norwich in November 2018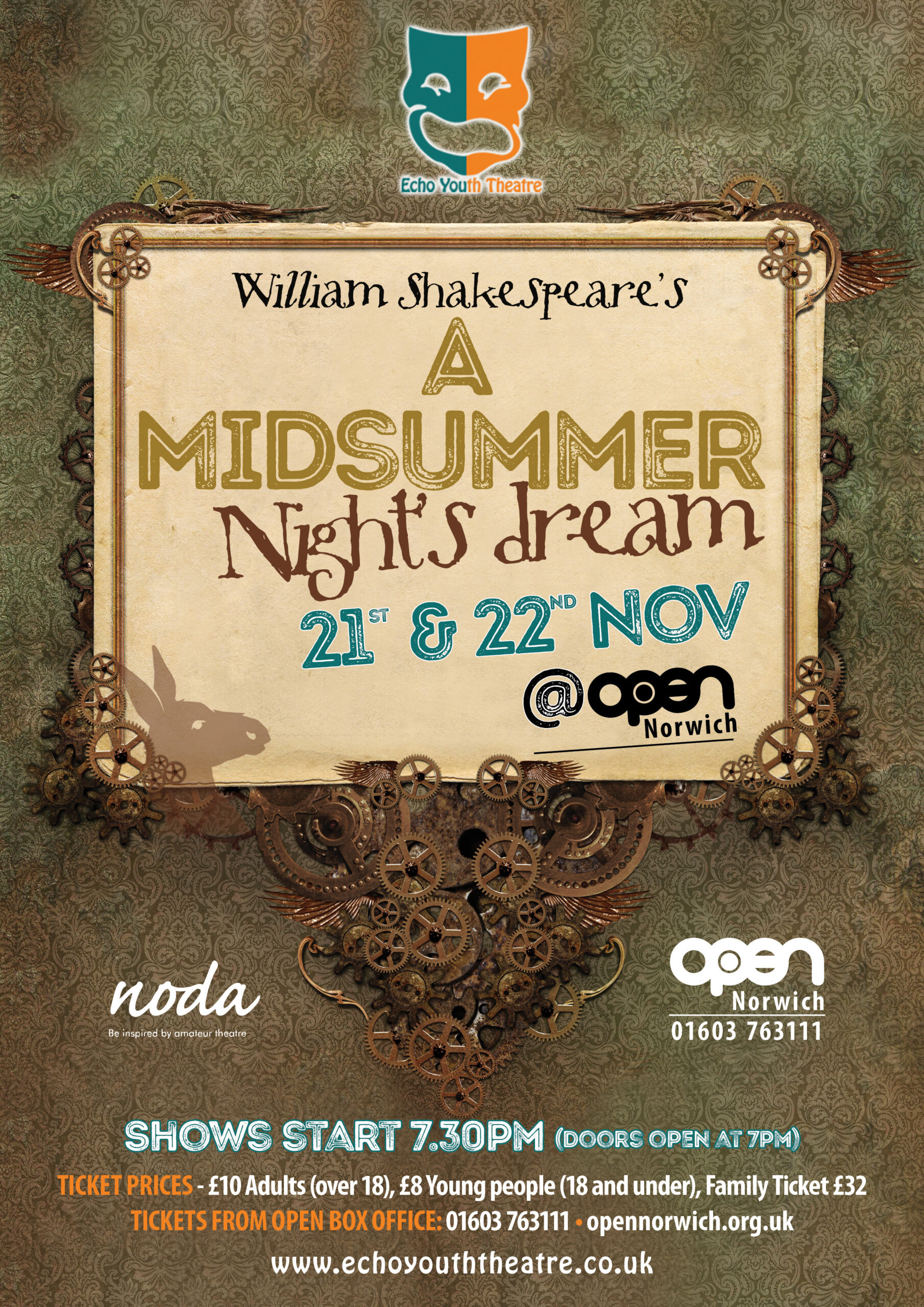 Directed by Kerry Stanley, A Midsummer Night's Dream had a cast of 29 young people, aged from 8 to 18 and played for just two nights to a sell-out audience in November 2018. With hindsight we wish we had performed it more!
Kerry's direction and the talented cast brought the abridged version of Shakespeare's classic tale to life with fun and imagination. Against the backdrop of a stunning set and quirky steampunk costumes, the play fizzed with energy and atmosphere.  The play adaptation was fast-paced and comedic farce played out with great humour against the interwoven love stories.
We received outstanding reviews for our first play and we were delighted to have been nominated by NODA in the "Best Play" category in our NODA district.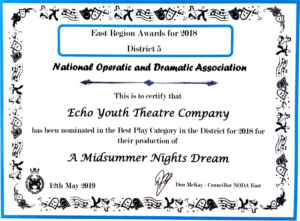 Just needed to say that last night's 'Mid-Summers ' was a true sensory delight! The setting, costumes, considered lighting and beautiful, sometimes haunting, songs and sounds helped to truly transport all watching to a fantastical alternative time and place. All that coupled with the exuberant, comical very accomplished interpretation of the words of Shakespeare, and feelings behind them, by the cast resulted in a fully immersive and truly enjoyable performance. Congratulations to all involved!
Audience Member

Congratulations are due to Director Kerry Stanley for finding the talent and extracting the essence of this well-known play to give the first Shakespeare experience to many of the participants and to ensure enjoyment for all involved from so many schools.
National Operatic and Dramatic Association


This is a lively, fast paced and hugely enjoyable 'Dream' that should help a new generation to discover the relevance and exuberance of Shakespeare. The design, staging and characterisation could all inspire many older and more experienced casts to look again at the fun to be had from this play. There were none of the stumbles or hesitations that some might expect from school age performers, this was a cast that knew their stuff and enjoyed putting it across with huge confidence and enjoyment.

All in all, I loved every second of it and can't wait for the next one. Well done to everyone involved, I know how hard you've all worked to put on such a spectacular show!
Audience Member